RCA Stereo Amplifier with custom enclosure $300


This amp began as part of a huge RCA console and was paired with an AM/FM tuner and record player.
The speakers were salvaged to use on another project and the cabinet was sold. The tuner was kept for some
of the components and some research was done on how to make this a stand alone audio amplifier.
This amp required some pre-amplification to give sufficient volume. I copied the pre-amp section from
the tuner schematic and modified the chassis to take two additional tubes and the volume, tone, and balance
controls from the tuner. Since the chassis was plain gray metal, I cut a metal overlay to fit over the top
and painted it with Copper Hammertone paint. The frame was made from Phillipine Mahogany with a lacquer finish
A MDF pedestal raises the amp 3/4 inch from the table and allows the lights underneath to shine through the Lexan
panel the covers the botton of the amp. Dual RCA jacks on the rear panel will accept any compatible audio source.
The Push-Pull configuration of the output tubes produces around 17 Watts per channel and the amp sounds great
with any efficient speakers. I have played it through some Klipsch RP-160M bookshelf speakers and some Bose 301s, both
of which sound very good with a CD player or streaming music through a Bluetooth receiver.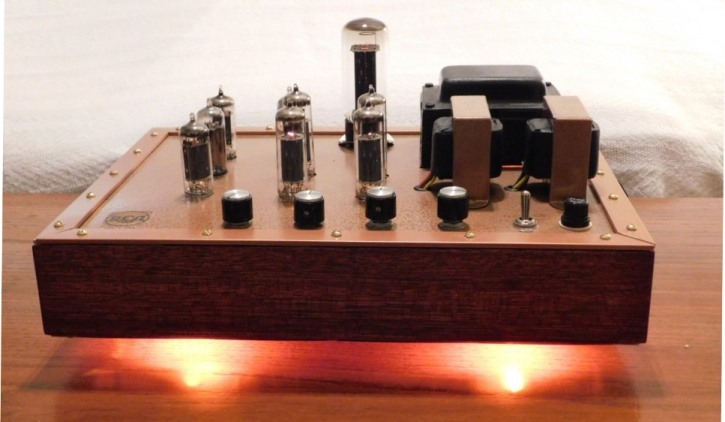 Back To Item Listings